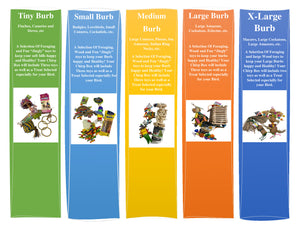 Bird Chirp Box
A Selection of Foraging and Fun toys to keep your birds Happy and Healthy! Your Chirp Box will include a selection of toys as well as a Treat selected especially for your Bird.
Items in box may vary from picture. These will be hand selected by our amazing staff for each and every purchase. 
Choose from one (or more) of the following

Tiny Bird-Finches, Canaries and Doves, etc
Small Bird- Budgies, Lovebirds, Small Conures, Cockatiels, etc.
Medium Bird- Large Conures, Pionus, Sm. Amazons, Indian Ring Necks, etc.
Large Bird- Large Amazons, Cockatoos, Eclectus, etc.
X-Large Bird- Macaws, Large Cockatoos, Large Amazons, etc.
---
We Also Recommend